Digital marketing is the use of the Internet, mobile devices, social media, search engines, and other channels to reach consumers. When it comes to digital marketing, over 4 billion people go online every day; everyone is aware of digital marketing, and everyone feels like they aren't doing enough of it!
But how many types are there? Is social media marketing considered "digital"? What about radio advertising?
If you are not sure what exactly digital marketing is, you are definitely not the only one. Searching for "digital marketing" on Google will return you over 2 billion results.

From Google
What is Digital Marketing?
Broadly speaking, digital marketing encompasses all marketing activities that use an electronic device or the Internet. Does that mean it's any form of marketing in existence online? Well, Yes and no. Digital marketing definitely includes all online marketing activities, but it can also include some offline activities too. Here are the main types of digital marketing you should consider for your business:
1. Content Marketing
Content marketing is a very important aspect of digital marketing focused on creating and distributing content (written or video) for a target audience. Common examples include blogs, newsletters, service descriptions, and moreThe content aims at being valuable, relevant, and (ideally) consistent. Its ultimate goal is to drive a profitable customer action.
The strategy gains its impact from the value and relevance of the content setting content marketing apart from low-value, 'spammy' advertising. The key is to create content that the target audience should want to seek out.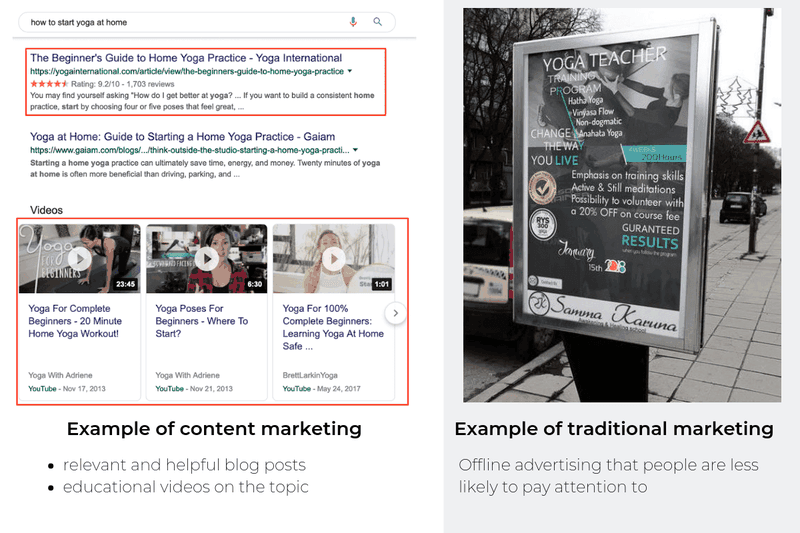 In a more grand sense, content marketing plays a role in almost every other digital marketing field, from social media, to email marketing. Producing and distributing quality content should be the goal of every activity you pursue.
2. Search Engine Optimisation (SEO)
SEO, or Search Engine Optimisation, is the process of improving your search result rankings through optimisation of digital assets and content. As with all forms of marketing, it's absolutely crucial that the traffic you drive to your website is relevant to your industry or product. While it may make your weekly performance numbers look better, large numbers of website visitors searching for unrelated terms or industries is a vanity measure that will increase your overall spend while doing nothing for engagement or conversion rates.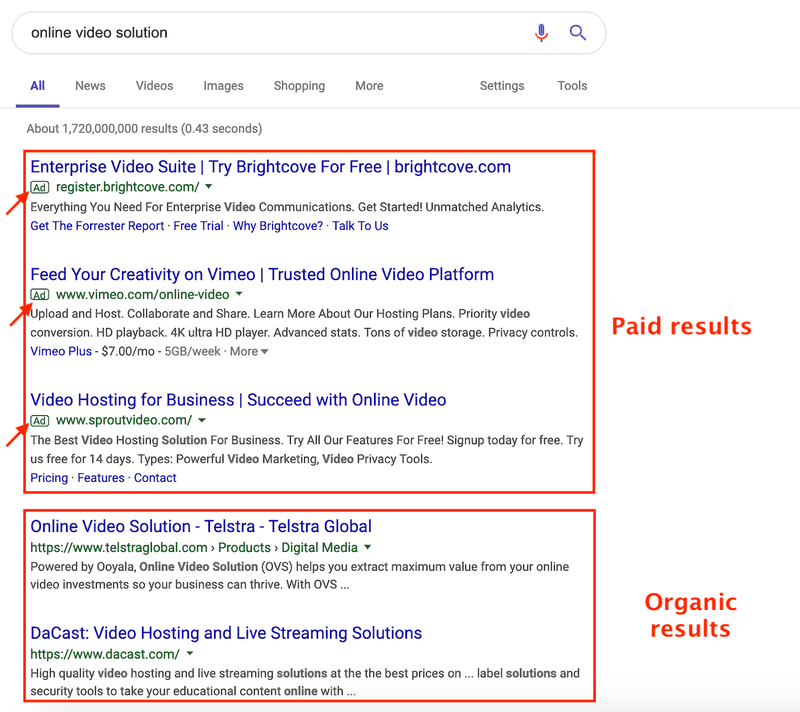 By optimising your content for search engines, you can increase your relevant traffic over time, and hopefully successfully converting. Without search engine optimisation, it's highly likely that your website will be lost in the noise.
SEO techniques include: including relevant keywords into your website copy, optimising your website titles, description and loading speed, building relevant backlinks.
3. Search Engine Marketing (SEM)
Initially, the term "search engine marketing" was used as a catch-all term for the process of gaining both paid and free search traffic. Over time, the industry switched to using the term "SEM" (Search Engine Marketing) solely for paid activities, while SEO (Search Engine Optimisation) refers to free search traffic.
So, what is this type of digital marketing?
Search engine marketing refers to a form of digital marketing aimed at increasing the visibility of a website in search engines by using paid methods. In other words, it's the sponsored results purchased through Google AdWords and Bing Ads.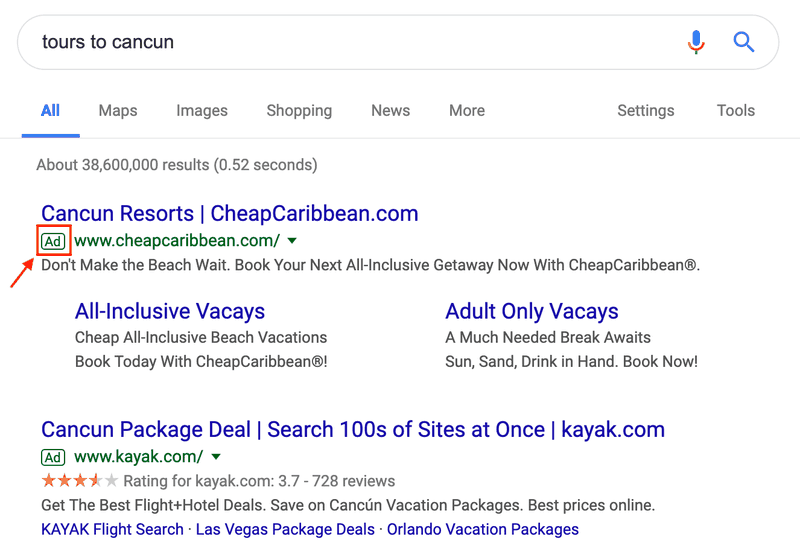 Paid search results in Google always display a small sign "Ad" at the beginning of the URL, and are always displayed first in the search results.
By combining SEO and SEM, you can drive quality traffic to your website. With the help of search engine marketing, you can put yourself in front of the audience that is actively searching for services and brands like yours.
4. Social Media Marketing (SMM)
It's all in the name; social media marketing refers to using social media platforms to attract traffic and impressions. Through the use of social media, you can boost exposure and build significant relationships with your customers at a granular level, something that is just not feasible when using traditional methods.
While almost everybody can benefit from the use of social media marketing, B2C and SaaS companies are traditionally the most successful. At its core, social media marketing is listening to your customers, engaging in conversations, and sharing valuable content to your followers and clients.
Together, content marketing, SEO, and social media marketing constitute what is called "inbound marketing". It is a marketing method aimed at attracting, engaging, and converting leads. The goals of inbound marketing include attracting users' attention, driving relevant traffic to the website, and converting it to satisfied happy customers.
5. Pay-Per-Click Advertising (PPC)
Pay-per-click advertising is where marketers pay a fixed fee every time people click on their ad. It's the process of buying visits to your site, as opposed to getting them organically via SEO or other types of digital marketing.
PPC is one of the types of paid search. It's similar to search engine marketing, but can also include display advertising (cost-per-click based), as well as affiliate advertising.
6. Affiliate Marketing
Affiliate marketing is a very popular way to make money online these days. If an affiliate program is successful, one can earn a decent passive income.
Essentially, affiliate marketing is a type of digital marketing where one partners with businesses, and receives commission for the traffic they generate for this business. Typically, affiliate schemes are run using tracking links to the business website/product page, which are then placed on 3rd party websites, blogs, and social media- basically anywhere the affiliate thinks it will generate traffic. Every time someone uses that link to access the website and make a purchase, the affiliate receives their commission.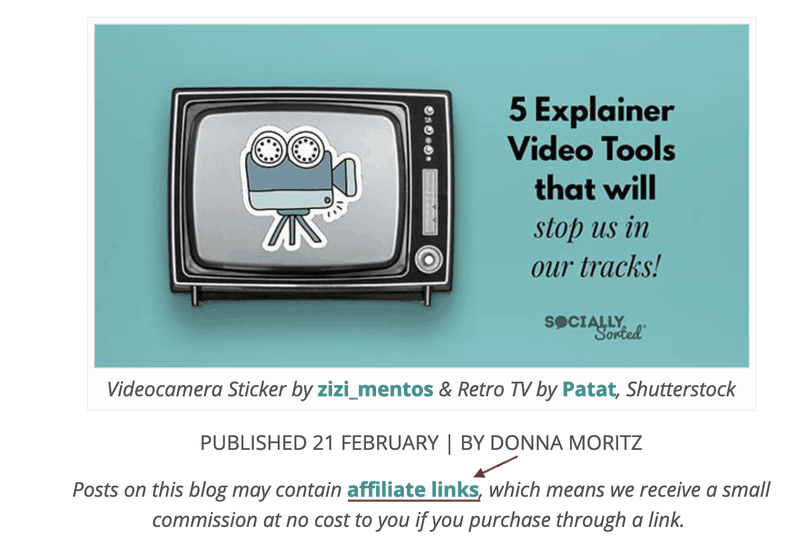 Example of affiliate link placement with an explanation. 
7. Email Marketing
Despite seeming a little old-fashioned to some, Email marketing is still one of the most widely used and effective types of digital marketing.
Email marketing, in addition to direct sales generation, can also focus around building relationships with your customers. Emails to clients shouldn't just speak at them, but also encourage meaningful interactions with your brand.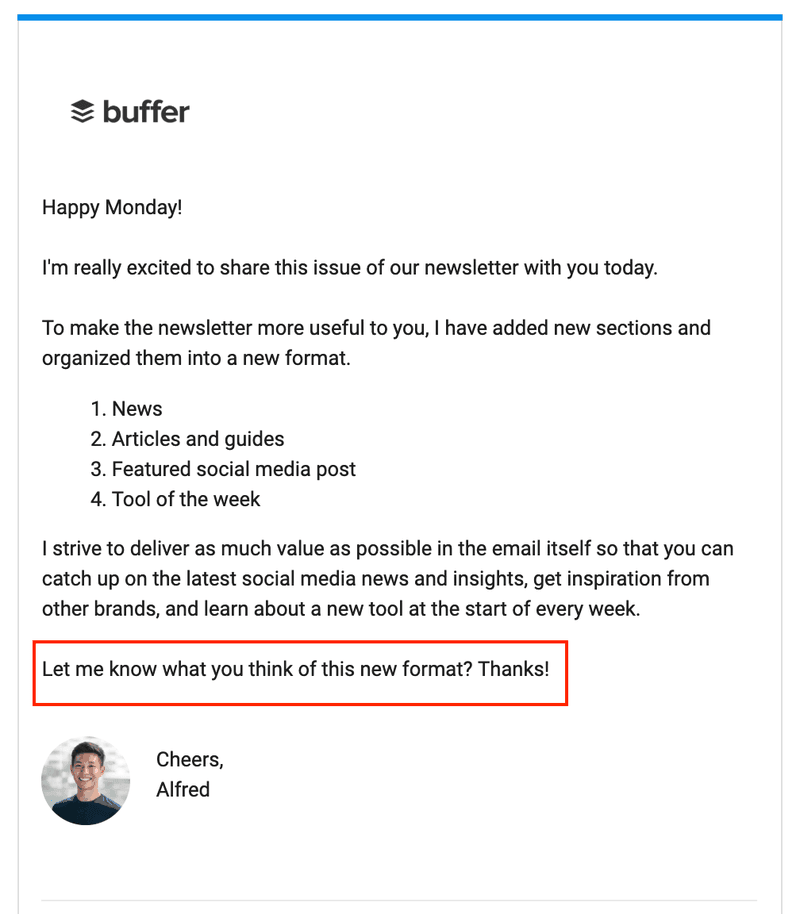 Notice how this starts a meaningful conversation by asking their readers' opinion in their emails.
There are many things that contribute to the success of your email marketing strategy, from the content you create to the time you send your emails. One thing is certain, though: email marketing is far from being dead and should definitely be part of your overall digital marketing.
8. Instant Messaging Marketing
Instant messengers are the latest and greatest communication trend. There are 1.5 billion people around the globe using WhatsApp on a monthly basis, followed by Facebook Messenger and of course WeChat. Instant messaging marketing is one of the most direct approaches possible on social media.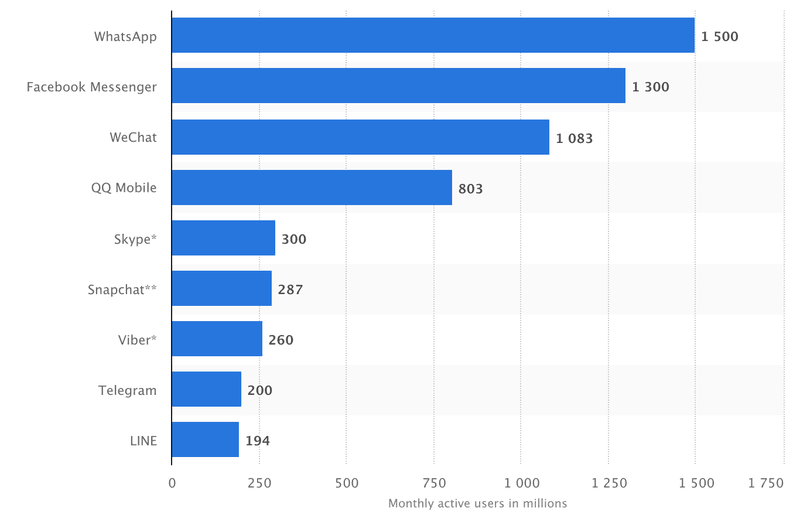 Most popular global messenger apps, based on the number of monthly users. Source: Statista
Instant message marketing has grown by leaps and bounds over the last couple of years. People are much more likely to trust the information sent via a messenger (as if it comes from a good friend) than email or SMS that are vulnerable to (and used heavily by) spam.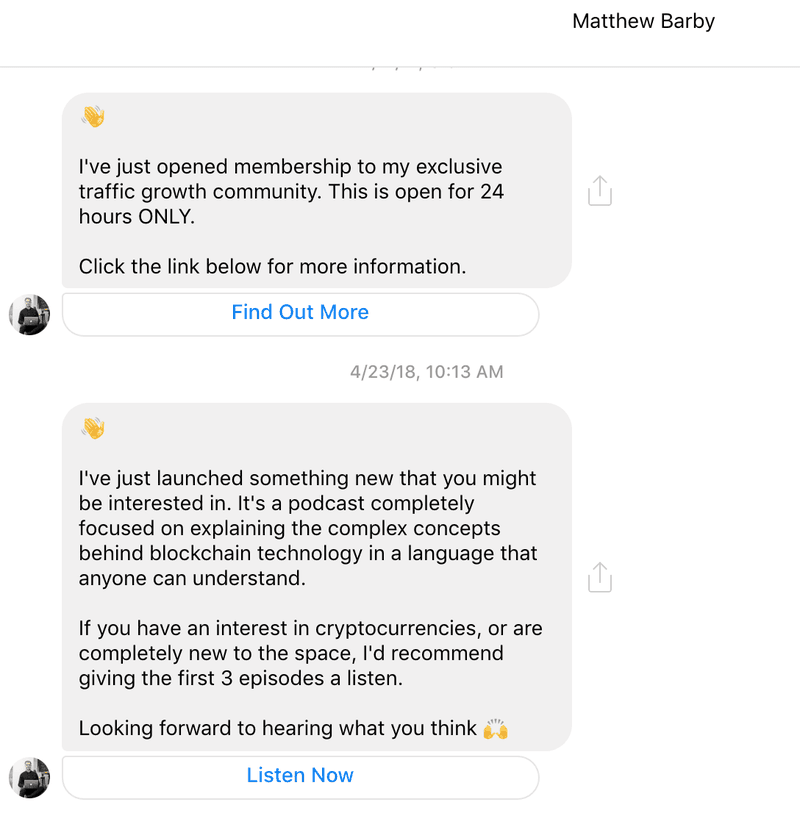 The uses for IMM are varied; from customer support to updates about new posts on your blog. Connect with your customers where they spend time, and you can gain the rewards of a loyal, engaged customer base.
9. Radio Advertising
While many would consider radio "old-fashioned", radio advertising can still be a powerful driver of business and awareness for B2C companies and local businesses. In the US, radio advertisements still make up a full 7.8% of total media expenditures nationwide (source). Radio advertising is also relatively cheap, as you don't need to produce fancy visuals: you solely rely on your customers' imagination (and your excellently written script!).
Just like with any other type of digital marketing, successful radio advertising strategy relies on knowing your target audience. You also need to create a great script, maybe hire voice talent, and of course get your timing right!
10. TV Advertising
Last but not least, our list of digital marketing just couldn't be complete without television advertising. With the general population spending over 4.5 hours a day watching TV, it's still one of the most popular mediums. It also reaches people faster than print or radio. Due to the powerful effect video has on humans, the right ad can be incredibly effective. An excellent example is the John Lewis Christmas ads, which are usually very emotional and are looked forward to by many in the UK as a fixture of the holidays.
Television advertising is expensive, and coming up with a great and engaging ad might be a daunting task, too. TV ads work great for FMCG products, clothing brands, cars, medicine, and food.
Conclusion
There are more (seemingly infinite) variations of digital marketing, but these 10 absolutely deserve inclusion as the most common (and effective). You don't necessarily have to start with all ten at the same time; in fact, it's highly recommended that you don't spread your manpower and resources too thin. Choose a few you think might suit your business best, experiment, and measure the results- it's best to focus on fewer optimal channels with more effort than to engage in every form with low effort or resources. We're ready to get marketing if you are; get in touch today!
What digital marketing types are you already using? Do you have any questions? Let us know!